The client
Bianca is the founder and director of The Health & Wellbeing Studio, a holistic natural health clinic based in Melbourne, and she is also the co-founder of Natural Business Tools, an online service that provides practitioners with the tools they need to deliver exceptional education experiences for their patients, via non-biased, evidence-based, educational handouts.
The challenge
Healthcare practitioners are constantly providing value to their patients via educational handouts, diagrams, tools, recipes, and meal plans. And while invaluable resources, the time spent by practitioners writing these takes away from the valuable time they could spend with their patients.
Bianca knew there had to be a better way, a way that patients could receive the resources and tools they need, but where each healthcare professional doesn't need to reinvent the wheel every time writing the content from scratch.
In 2015, Bianca built an MVP (Minimum Viable Project) of this concept, and Natural Business Tools was born, allowing customers (healthcare professionals) to log in, and instantly gain access to a library of resources they could download and provide to their patients.
Over the years the feedback was positive, but the initial platform was limited to only providing hardcoded document downloads, and didn't allow her customers to tailor the resources to their own needs. Bianca needed a technology partner to take Natural Business Tools to the next level.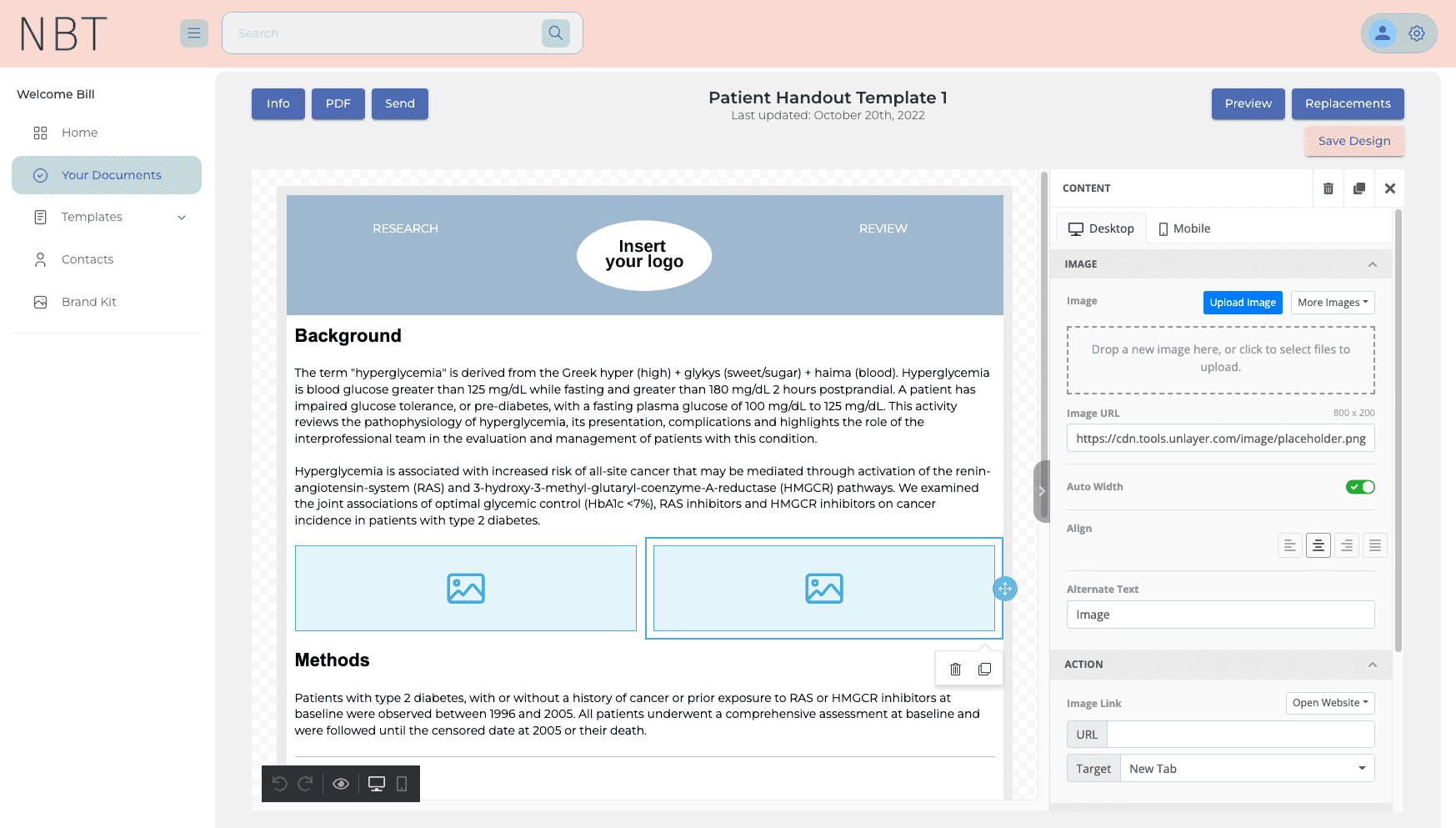 The solution
Bianca found Atlasopen in early 2022, and from reading online reviews and their first meeting - she decided Atlasopen was the right company for the project almost immediately.
"From the moment I met with Clarence I knew I had found my development Team.
Detailed wireframes and workflows had already been developed, but an initial scoping phase was undertaken to confirm all the requirements and make sure everyone was on the same page.
The "version 2" of Natural Business Tools would provide customers with a lot more flexibility, including
Customisable templates, based on the needs of the specific healthcare professional. Including

Patient handouts
Questionnaires
Patient tools
Business tools
Infographics
Recipes
Meal plans

The ability for customers to create their own custom templates
Client customisable branding for all resources, including a customised logo, colours, and other information specific to the healthcare client
Downloadable PDF's (with custom branding applied)
The ability to automatically email the resources to their patients.
Customer subscriptions, with different prices for plans/tiers
An administration system, allowing control over the backend of Natural Business Resources
Natural Business Tools required a sophisticated document editing tool, allowing customers to create and edit templates. Creating one from scratch would have significantly increased the budget, however Unlayer Embed plugin was utilised to provide powerful editing capabilities for a fraction of the cost
The results
The system was delivered in 3 months - on time, within budget, and exceeded initial expectations.
"The team at Atlasopen have always taken the time to understand my business and because of this, they executed an app that exceeded my expectations"
Regular project management check-ins kept Bianca up to date with the progress, and overall she found the entire project to have a "great process".
Bianca is currently finalising the default templates and resources that come with Natural Business Tools and hopes to re-launch to her clients in late 2022.
Atlasopen provides continued support and advice to Bianca and Natural Business Tools. We have a strong relationship with the product, and with the new platform and Bianca's innate skill at understanding the needs of healthcare professionals - Natural Business Tools is sure to be a success.
"Since the app has been built Atlasopen's continued support has been invaluable."